PHELPS – THE PEPPERMINT VILLAGE?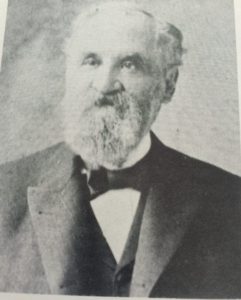 A picture of Hiram G. Hotchkiss now hangs on the wall of the building on Water Street in Lyons where he oversaw the purification, packaging and shipment of essential oils for many years.  But Lyons is not where he got his start.
His father, Leman Hotchkiss, first came to Phelps in 1811.  There he became a prominent businessman while raising his two boys, Hiram Gilbert and Leman Beecher Hotchkiss.  After his death in 1826 his sons carried on, expanding the family milling, grain and produce business to include, drum roll, essential oils!
Now after over a decade of successful activity the 1830s are drawing to a close.  Hiram takes a look around and sees that Phelps, while a very fine town, is lacking one significant element.  It is not situated on the Erie Canal.  Shipping large glass bottles of rather valuable liquids in wagons is a risky business.  One good pothole and you've got trouble.  How much better it would be to load them into a nice stable boat and send them gently floating off to their destinations.
So in 1843 Hiram, leaving his younger brother to run things in Phelps, makes the move to Lyons.  Soon peppermint fields abound in the vicinity, stills are steaming away and Leman's sons lead the essential oil industry.
But what would have happened if the Erie Canal had not been constructed after all?  It's quite possible
that their success would have taken place, but it might have meant lugging their goods up to Lake
Ontario for transshipment, bypassing Lyons altogether.  In that case the International Prizes would be residing in Phelps now.  So let's give credit for our main claim to fame to Dewitt Clinton's visionary achievement, the Erie Canal!
« View all posts