Lyons Public Library Receives Gift of DeWitt Parshall Painting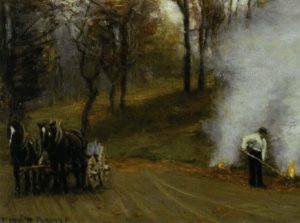 Last September the Lyons Public Library's Director, Theresa Streb, was surprised to be notified that the library would be receiving a gift of the DeWitt Parshall painting, "The Burning Bush" from Persis Charles, a Hotchkiss descendant. A professor at Sarah Lawrence University, she chose Lyons as a recipient because it was the home of both the Hotchkiss and the Parshall families.
Born in Buffalo in 1865, DeWitt Parshall was the son of William Henry Parshall and Lisette Hotchkiss, who lived in Lyons, New York . He graduated from Hobart College, where he studied art and was known for his caricature sketches. According to Michael Redmon, director of research at t he Santa Barbara Historical Society, he studied art in France and Germany, earning an exhibition at the Paris Salon in 1890. In 1910, the Southern Pacific Railroad sponsored a trip for artists to paint the Grand Canyon, and the landscapes he painted established his reputation in the United States as a premier landscape painter. His friendships with Charles Rollo Peters and Thomas Moran led him to settle in Santa Barbara, an evolving artists' colony, where he stayed until his death in 1956. During that time his California land- and seascapes became internationally famous. Not surprising, his son Douglas Parshall, who died in 1990, also became a prominent member of the Santa Barbara art scene as an artist.
The painting will be hung at the library. Look for an announcement on the Lyons Public Library website.
« View all posts