Lyons Heritage Society and Hotchkiss Building Has Another Successful Year
The Peppermint Museum is proud to report that we have had a steady stream of visitors to our building this year.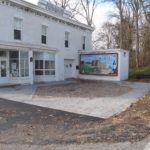 We  have had many boaters from the Erie Canal as well as bikers along the Canal stopping to visit.  The Vote Tilla in July celebrating the 100th Anniversary of the Suffragette Movement as well as the passage of the 19th Amendment  has made for a very busy season.  
We would like to share some remarks from grateful visitors:
One wrote:  On behalf of the Class of 1967,  I would like to thank you for the wonderful tour of the Hotchkiss Peppermint Museum.  You made the tour so interesting and fun. We were all impressed and went away with a deeper appreciation of our hometown history.  Thank you again.
Another wrote:  Thank you so much for making our visit to the Hotchkiss Museum so interesting.  We truly enjoyed learning about the peppermint oil business. Who knew it was so vast and important to our Lyons community.  Thanks again.!
Many of our visitors commented on the beautiful smell of peppermint when they opened the door.
We had many visitors from weddings  around the area. 
 The Lyons Vote Tilla Committee worked in tandem with the Lyons Heritage Society for the Vote Tilla visit this past July.  Greeted by the Girl Scouts upon landing in Lyons, the costumed boaters received decorated bags from the Girl Scouts filled with small gifts as well as brochures about our history.  The Lyons committee also arranged a luncheon and entertainment at the Ohmann Theater. The Girl Scouts continue to be an important part of our community events as well as donating time to our spring clean-up at the Hotchkiss building.  Vote Tilla boaters were pleased by the warm reception Lyons gave them. The Ohmann Theatre was another big draw as they had not experienced the the restored interior. They loved our beautiful murals and charming town center. 
The visitors also enjoyed shopping at our Gift Shoppe which is filled with lotions, books, candies and decorated tees.  A big thank you to Pat Gorthy for donating the proceeds from her book  "Peppermint Summer" to our Society.
We are shutting down during the winter with occasional visitors making appointments .    Our Heritage Society is busy making plans for our next year and would love for you to join our fun and interesting organization.  Thank you all for supporting the Heritage Society and the Town of Lyons.
« View all posts