Artifacts Donated to Lyons Heritage Society
This summer the Hotchkiss Peppermint Museum has received MANY new donations of Lyons artifacts. Many thanks to Joanne(David) Williams and Richard Wunder for the wonderful Lyons related artifacts. Examples include: a Law Office sign of Britten and Neuman, Williams beverage wooden boxes and many early photos and slides to mention a few of the donations.
While Patty Alena struggled to find a REED GLASS COMPANY bottle for a display, Chris Davis came forward to donate a REED bottle to complete the bottle exhibit. REED COMPANY, at one time, was one of the Hotchkiss's leading supplier of peppermint bottles.
An outstanding contribution to our collection this summer was an 1840's Fanning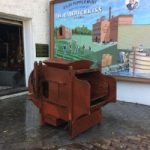 Mill. David Odell donated a LYONS fanning mill from his farm in Clyde. Dave Alena along with some help was able to transport the mill to the museum, where it has found a home in the basement. Fanning mills were manufactured at several different locations and companies in Lyons in the middle of the 19th Century. They were used on the farms" to separate weeds from seeds and to sort the seeds of grain, legume and other crops by specific weight"(Wikipedia). Lyons names associated with fanning mills are: Deacon John Gilbert (considered the originator of the fanning mills and known for shipping them all over the world), Van Wickle, Blackburn, Putney, Rice, and Reynolds. The new artifact can be seen in the basement of the museum alongside the Hotchkiss millstones. It has added a new arena for Lyons artifacts.
« View all posts