Woman of the Month: Mildred Taylor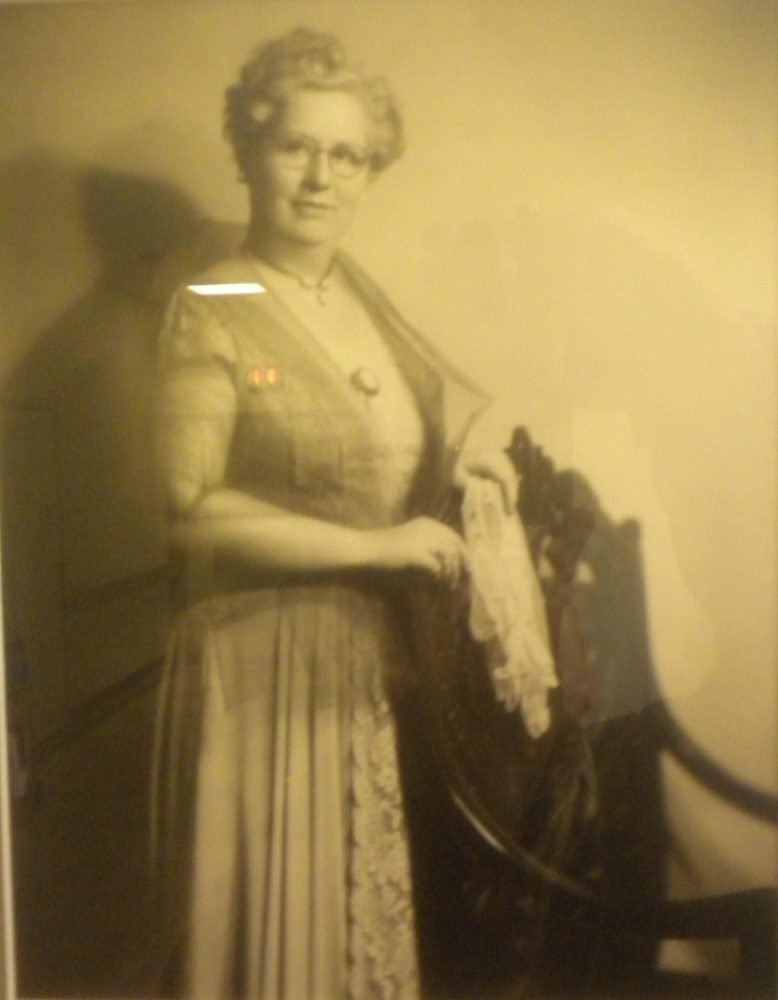 We dedicate our next woman of the month  installment to Mildred Frick Taylor.
Mildred was born in 1905, the daughter of Val Everhart Frick and Louis Frick. The Taylor family ran the Livery Stable which was located on Route 14 in the village, where present day Del Rosas  is now located. Like other kids at the time Mildred attended the Lyons Central School and was by all accounts very studious. As Mildred  progressed thru school she became very interested in politics often helping her Uncle  Augustus Burnett, the supervisor campaign around Lyons and Wayne County. Mildred graduated in 1922 and at the time of her graduation she held the equivalent of a college entrance degree.
Mildred did enroll at the Rochester Business Institute in 1923 but elected to leave school just five months into the program. From there she went to work at the Crandell Packing Company in Palmyra. She was employed with Crandell for two years before accepting a position at the Arcadia Trust Company in Newark. She held this job until the bank was forced to close in 1931 due to the Great Depression. She then found employment next with Lyons National bank where she assisted its President Dr. Fletcher Towlerton with the closing and consolidation of the various banks during the depression. In 1933 Mildred found herself in the employ of the Emergency Work Bureau of Wayne County.
In 1937 Mildred married E. Paul Taylor and they set-up residence at 35 Phelps Street in the village of Lyons. Mildred entered the political arena in 1940 as a Republican candidate for the New York State Assembly. She won the election to become Wayne County's first woman representative in the Assembly. Mildred would serve in the Assembly from 1940 thru 1960. Her influence and prestige earned her a delegate spot at the 1940, 1948 and 1960 Republican National Conventions. She was even a Presidential elector for the 1956 election where she cast her vote for Dwight D Eisenhower and Richard Nixon.  Mildred's tenure in the Assembly saw her champion many bills that would benefit New York State residents. She was involved with legislation that impacted the pension of teachers, public employees, and retired teachers. She supported conservation legislation that protected Lake Ontario. She was also involved with legislation that protected the migrant workers in New York State.
There are three key pieces of legislation that she was involved with that have a direct impact on our lives here in Lyons. The first was in 1952-1953 when the Town of Lyons was in need of building a new school and one contingent wanted to build it on Dunn Road where Parker Hannifin was located and another was advocating where Taylor Park now stands. To solve this dilemma she crafted a bill that is still used today which lays out the parameters for choosing a site to build a new school. This bill helped guide the citizens in Lyons in choosing the current site of the high school.
The second piece of legislation deals with the  Route 14 by-pass over the railroad tracks on Geneva Street. This area was known to be very dangerous with trains coming through and foot traffic and automobile traffic cutting across the tracks as well. In 1949 Mildred Taylor secured the funding to build this overpass which was completed in 1950 and we are still using it today.
The last piece of legislation to highlight had to deal with New York City charging a tax on anyone who carried on any type of business in the city. This tax directly impacted the farmers and canning factories in the upstate area. Mildred quickly went to work to amend this practice and had the current legislation changed so that it would no longer impact her upstate constituents.
Mildred Taylor was also credited with designating the rose as state flower of New York in 1955 and the Monroe Brand of apple as our state apple.  And it was not by coincidence  that she made these selections as  both the rose and apples were products of Wayne County.
Mildred Taylor retired from the legislature in 1960 after a car accident. Though retired, Mildred stayed very active in her community often devoting her time to the Daughters of the American Revolution, Girl Scouts, The Grange and The Order of The Eastern Star. She also used her influential friends in helping her restore the Clifton Springs Apartments which served the community well. Mildred was named Lyons citizen of the year in 1974 and was given honorary status in the Lyons Fire Department as well as the Northern Central Fireman's Association. Mildred Taylor passed away at the Clifton Springs hospital on January 4th, 1981 after a long battle with illness.
I want to leave you with this exert from the Hoffman Essay composed by  Dan Kovacs titled " A Woman Ahead Of Her Era: Mildred Frick Taylor" as I feel it sums up Mildred Taylor best. In Mildred Taylor's words " I think women have to work harder than men to prove themselves. I think women have to prove themselves by reason of experience , or gaining the confidence of their fellow citizens. Women with qualifications should not have to beg. They should make themselves known and gain respect"- Mildred Taylor we thank you for being a state's women, pioneer and advocate for all women and an advocate for  Lyons and upstate New York!
« View all posts