Made in Lyons/Sold in Lyons Items on Display at Lyons Public Library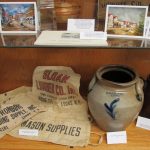 Come see some of the items that were once manufactured and sold in Lyons and are now part of its cultural heritage.  In the display case at the Lyons Public Library are artifacts from the Hotchkiss acquisitions and from private collections of Lyons Heritage Society members.  Lyons Heritage Society members Carol Bailey, Bob MacDuffie, Pat Gorthy and Joan Wallis collaborated to create a collection of items that were once part of the Lyons economic and retail scene.  From a tie pin made by the Hickok factory, once located where Ruspak is now, to stunning glass pyramids from the MacIntaosh Company on Butternut St. the display covers both the practical, the artistic and the commercial past of Lyons. Bob has even lent his postcards of former Lyons manufactory sites.  A rare piece of pottery from the Clark pottery can also be seen in the display.
In addition, the library itself boasts artwork and artisanal items from local talent, as well as historical prints and a painting by a former Lyons resident DeWitt Parshall.
« View all posts